TXT-CHAN for 24/7 Emergency Orthopedic Care straight to your phone.
Text your injury to 833-TXT-CHAN (833-898-2426) for immediate evaluation and treatment, even emergency surgery.
If you have suffered an injury, skip the ER wait and costs by sending a simple text to 833-TXT-CHAN (833-898-2426). Dr. Holman Chan, Orthopedic Trauma Surgeon offers fast, easy access to Emergency Orthopedic Care.
TXT-CHAN to connect directly with an Orthopedic Specialist, no ER wait time or high-cost exams only to be referred out to another specialist. From evaluation and treatment to a full recovery, Dr. Chan and his team will care for you every step of the way.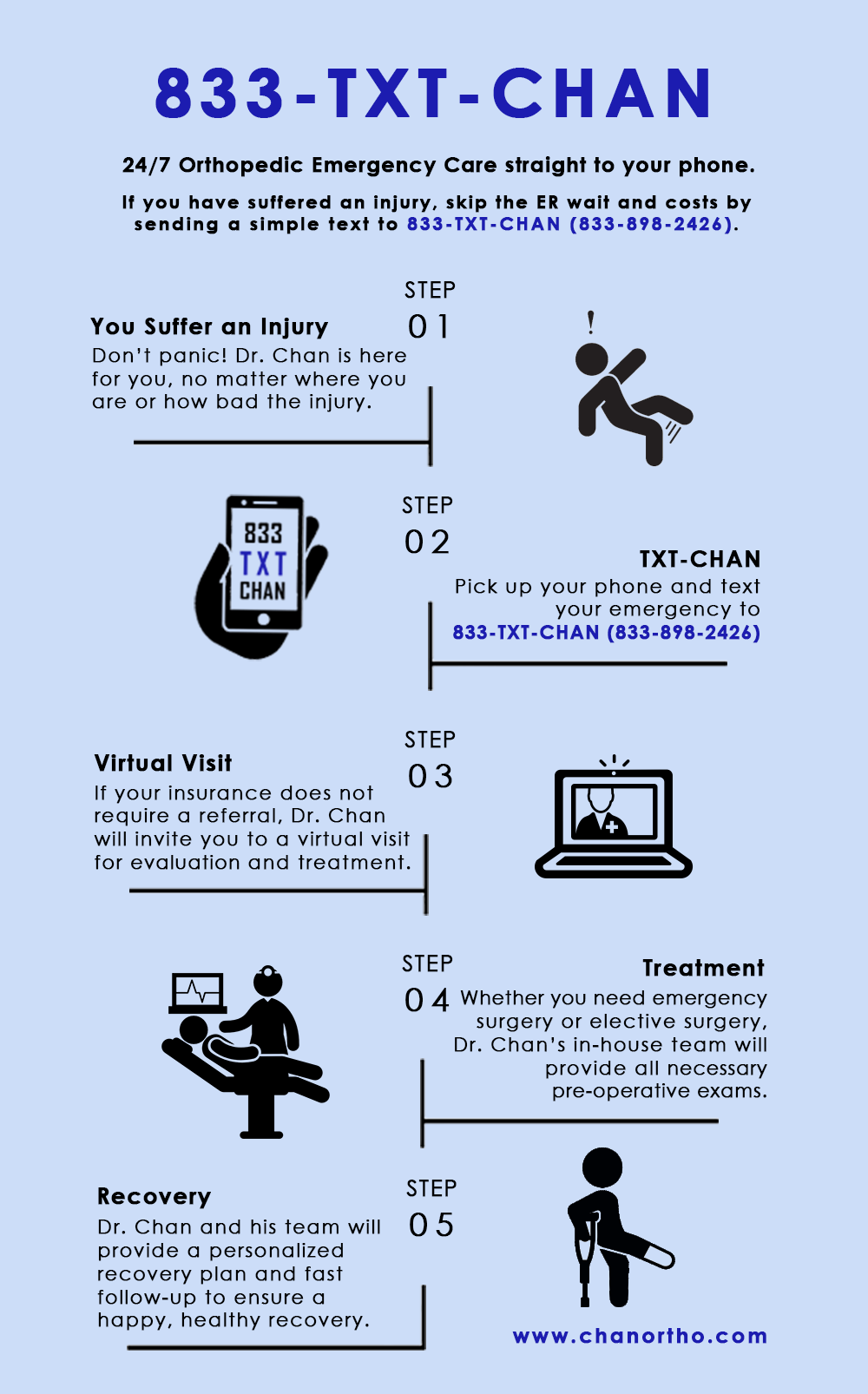 How 833-TXT-CHAN works:
1. You suffer an injury
Don't panic! Dr. Chan is here for you, no matter where you are or how bad the injury.
2. 833-TXT-CHAN
Pick up your phone and text your orthopedic emergency to 833-TXT-CHAN (833-898-2426). You will shortly receive a onetime registration form to gather your information.
3. Virtual Visit
If your insurance does not require a referral, Dr. Chan will invite you to a virtual visit for evaluation and treatment options.
4. Treatment
Whether you require emergency surgery or elective surgery, Dr. Chan's in-house team will provide all necessary pre-operative exams. Dr. Chan also provides advice if you don't require any operative treatment or an office visit.
5. Recovery
Dr. Chan and his team will provide a personalized recovery plan and fast follow-up to ensure a happy, healthy recovery.

833-TXT-CHAN is so fast and easy that you will never have to wait at the ER again for an acute injury. Patients throughout the valley are skipping the ER and receiving 24/7 Orthopedic Care straight to their phone.

Why patients skip the ER and TXT-CHAN
• Save time- The average hospital wait time is 2 hours.
• Save money- ER visits and treatment costs are significantly higher. You may save up 80% on the same procedure.
• No referrals- No referring you out to another specialist. ER referrals may take up to 10-14 days.
• Patient/Doctor Relationship- Dr. Chan spends time with his patients and understands that patient communication is key. Patients at the ER may never even see a Doctor before discharge.
• Easy Access- You can TXT-CHAN no matter where you are. If you have an injury, Dr. Chan can help.
Save your time, save your money and TXT-CHAN when your next injury occurs. Orthopedic Trauma Surgeon, Dr. Holman Chan will provide the personalized care from the moment you are injured until a full recovery. Skip the ER and receive the Emergency Orthopedic Care. Care you need straight to your phone, just text 833-TXT-CHAN (833-898-2426).
If you are already an existing patient and have general questions regarding your injury, procedure, paper work or after care, please call Dr. Holman Chan at 702-966-1533.